Together with local and international partners including the World Parrot Trust, we work on trailblazing projects at the park, around the region and elsewhere in Honduras.
We have already succeeded in re-introducing a scarlet macaw population at the UNESCO World Heritage Site of Copán's Maya ruins.
But we want more!
Support us
Macaw Mountain's focus will continue to be one of rescue, rehabilitation and release while maintaining the park's educational tourism role.
Nesting boxes
It might not look that way at first sight, but this is actually one of our most important projects!
In order for our dream about the "Sacred Valley of the Scarlet Macaw" to become reality, it is vital that our Macaws go on to produce offspring after they have been set free. For that purpose, we install home-built nesting boxes around the Copán valley. Our free-flying Macaws can use these safe spaces to build a home during mating season.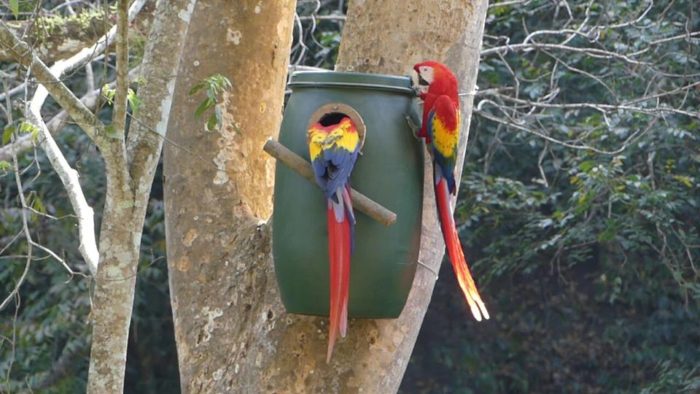 Bird releases
There is no greater reward for us than being able to release a flock of our birds back into their natural habitat. So far we have done 4 major releases of the scarlet macaw in the Copán valley and other releases in different locations in Honduras. And we are anticipating more releases to come in the near future.
Each release event is a major milestone, the culmination of a lot of hard work by our staff and project partners. But our rehabilitation efforts do not stop there. Even though the birds that are given back their freedom have a sufficient level of independence to forage and feed themselves, we keep providing them with supplemental food after the release in order to maximize their chances for survival in the wild. We also continue to monitor the general condition and health of the bird population and their offspring.
Educating future generations
Our education program is arguably one of the most important cornerstones for the long-term viability of our conservation work.
Our team regularly visits schools in rural villages (often accompanied by a macaw) to teach the local kids about the historical and ecological significance of our birds, about the conservation work that we do and why that work matters greatly for their future. At the end of these fun and interactive visits, we also engage these kids to become ambassadors within their communities.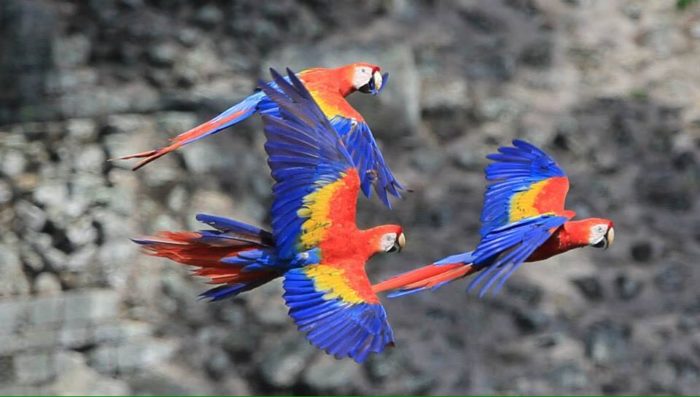 Protection and restoration
Our program for the restoration of a free-flying scarlet macaw population over the ruins of the Copán Archaeological Park and the Copán valley has been judged a resounding success both regionally and internationally. Its impact has been seen throughout Honduras as people from all parts of the country now see scarlet macaws flying about Copán again. Macaw Mountain's partners now include the World Parrot Trust, the Asociación Copán, the Honduran Institute of Anthropology and History, and the Institute of Forest Conservation (ICF).
The 4 municipalities of the Copán valley have now declared a protection zone in the 870 square kilometer area that they collectively administer. Our aim is now to transform this area into the "The Sacred Valley of the Scarlet Macaw". Not only will the macaws be legally protected here, but they will also be used as a symbol to promote a range of related conservation projects such as reforestation, protection of water sources, social projects and more. We will also try to restore free-flying groups of scarlet macaws and other parrots to other areas of the country that those birds used to call "home".