Our park
The land on which our park was built used to be inhabited by the Maya people of Copán in the past, and several archaeologists believe that from this place we can see the legendary "Mo witz" or Macaw Mountain. Today is a bird park with modern amenities that bears the same name.
Macaw Mountain provides its visitors with a personal encounter with the fascinating birds of Honduras in a natural environment. Our large aviaries comfortably house our feathered friends and offer an almost-in-the-wild way of seeing birds.
We have cobblestone paths and elevated wooden trails that give easy access for wheelchairs. The park also has a nature trail that stretches all along the canyon, from where you can observe birds, butterflies and small mammals such as squirrels.
The park includes an outdoor information center where you can interact with some of the birds, take pictures with them and observe them closer. It is a relaxing, educational and very memorable experience, and with your visit you contribute to the achievement of our conservation objectives and reintroduction of macaws and other species to their habitat.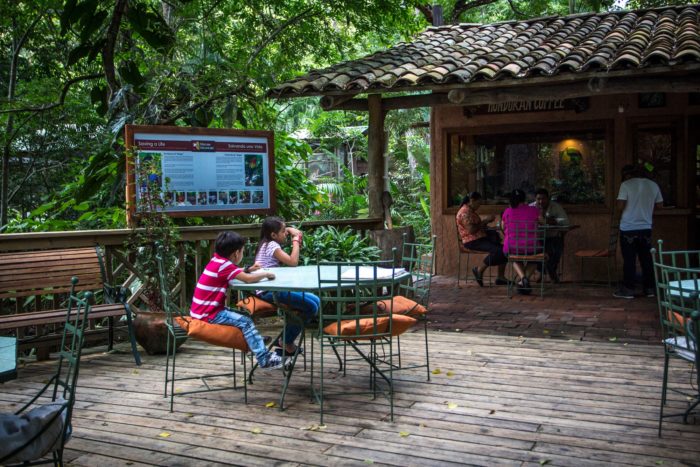 Our historic coffee roasting house has an elevated observation deck in the tree canopy where you can enjoy a freshly ground cup of our handpicked 100% Arabica coffee. Since part of the property had been a coffee plantation, we kept several areas of producing coffee plants to show visitors the process of coffee production.
Our gift shop is stocked with unique items for nature, bird and coffee lovers. Take home hand-carved wooden birds, unique creations by local artists, t-shirts, caps, photographs, books, toys and bags of our premium coffee. Our famous natural bathing pool is a welcome retreat on a tropical afternoon and offers a clean dip in a beautiful tree-lined river.
Macaw Mountain is also the perfect place to host your special event! Contact us for more information!