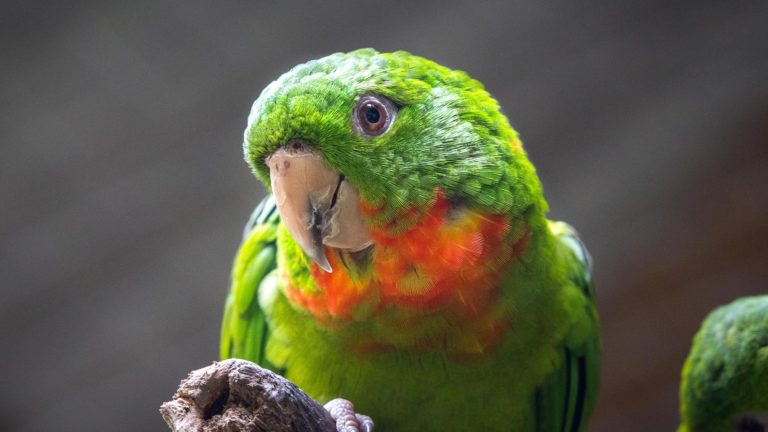 Red–throated parakeet
Aratinga rubritorquis
Taxonomía
Nombre científico:

Aratinga rubritorquis

Familia:

Psittacidae

Género:

Aratinga

Especie:

Rubritorquis

Nombres comunes:

Red-throated parakeet
Biología
Morfología:

28cm long. 130 grs. Green Plumage with yellow tones on the lower parts; red orange color on throat and frontal part of neck, with orange yellow feathers dispersed through body. When Young, red throat is missing from cheek and both sides of neck.

Reproducción:

nests in cavities in both trees and rocks. They mate between January and August and usually lay between 3-4 eggs.

Dieta:

seeds, fruits, berries and nuts.
Ecología
territorio:

from east Guatemala and El Salvador towards the south through western Honduras and up to northern Nicaragua.

Habitat:

altitudes between 600 and 1.800 meters, in diverse types of forest areas, except tropical jungle. Can be seen in humid forest, open areas and agricultural areas of Guatemala and pine forest of Nicaragua.
Amenazas
IUCN Red List: Least concern.
Population Tendency: Stable