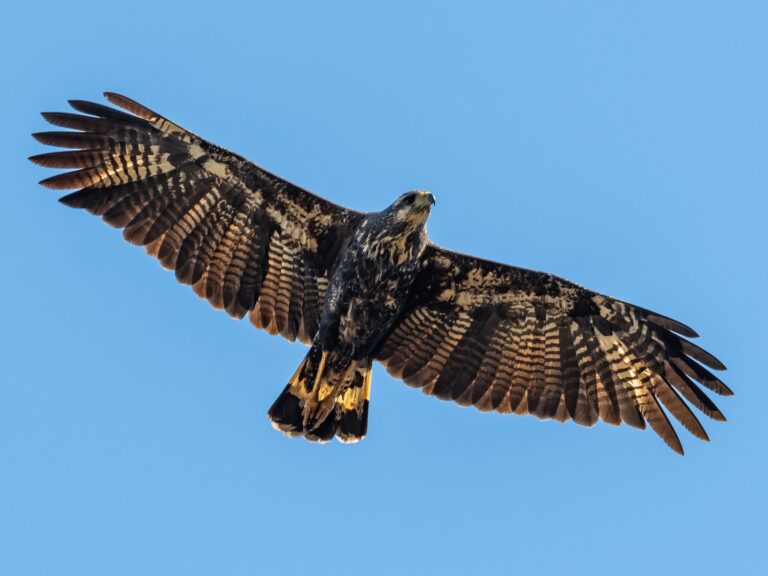 Great Black Hawk
Buteogallus urubitinga
Taxonomy
Scientific name:

Buteogallus urubitinga

Family:

Accipitridae

Genus:

Buteogallus

Species:

Urubitinga

Common names:

Great black hawk
Biology
Morphology:

The Great Black Hawk averages 53 cm in length and has a wingspan of 127 cm. The females being larger than the males. The head, body, and wing coverts are coal black. The under wing is black with the exception of a small white mark at the base of the outer two or three primaries. The black tail has one wide white band and a thin white terminal band. The cere, legs and facial skin are a bright orangish yellow.

Reproduction:

They lay 1 to 3 eggs but only have one offspring per breeding season, which runs from late February to late May.

Diet:

The diet is rich in small vertebrates such as mammals, birds, amphibians and reptiles, both terrestrial and mangrove areas. Frequently, heron chicks and other waterfowl are included in the diet.
Ecology
Range:

They are found from northern Mexico to northern Argentina, passing through Ecuador, Peru, Venezuela, Brazil, Bolivia, Paraguay, Trinidad & Tobago and Guyana.

Habitat:

Forested areas. Adapted to altered habitats, mainly savannas with wetlands or forest mosaics and savannas with bodies of water.
Threats
IUCN Red List: Least concern.