Support Macaw Mountain!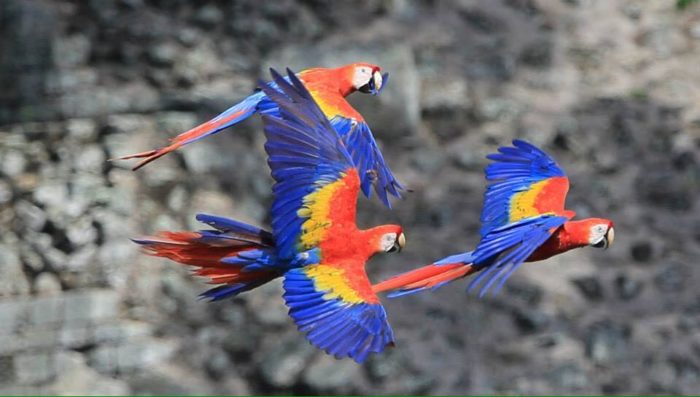 Every year Macaw Mountain provides a sanctuary for over 350 birds from up to 50 species, many of whom are endangered. Most of our birds are rescued from the illegal bird trade and had been living in poor conditions with ill-equipped and often-times careless owners. Unfortunately, many of the birds that we receive are clinging to life when they arrive at our rescue center. Our dedicated and loving staff nurse these birds back to health while providing them with a safe and caring environment.
We are currently working with local, national and international organizations, including the Word Parrot Trust, to expand upon our release program. We are working alongside local partners to facilitate more releases throughout the Copan valley. It is our dream that one day people will be able to see Macaw's flying freely throughout Copan. We are also working with international and national organizations to consciously and responsibly repopulate the Honduran national bird throughout the country. Future Macaw release sites will include several of the Bay Islands, Pico-Bonito, Gracias, & La mosquita.
Macaw Mountain is a one-of-a-kind project in Honduras with proven success! However, it is our dream to transform Copan into the "Sacred Valley of the Scarlet Macaw." Thus far, our efforts have been centralized to include releases at the UNESCO world heritage site of Copan Ruinas. Visitors are taken on a journey back in time to experience the splendor of what has been referred to as "The Athens of the Maya world." The ruins of Copan provide a truly transformative adventure where one can behold the glory of a once beautiful civilization: dozens of scarlet macaws now live and fly freely over this archaeological & architectural gem. Copan's history, artwork and iconography symbolically idolized these beautiful birds, Yax K'uk Mo the founding father of the Copan dynasty was even named in honor of the macaw, "Great Sun, Quetzal Macaw."
Over our 15+ year history we have cared for upwards of 750 birds and have successfully released 200+ birds and counting! We have also witnessed successful breeding efforts at all of our release sites.
The vision of Macaw Mountain and our partner organization, the ONG ProAlas, is focused around the three R's of rescue, rehabilitate and release. It is our mission to eventually reintegrate our birds back into their natural environment through our 'liberation' projects. Our park and natural reserve provides us with the optimal setting to prepare our birds for release through our recover and rehabilitation programs. Macaw Mountain also serves as an educational tourist destination whose funding is directed back towards our RRR programs.
We thank you for your interest in our project! If you are compelled by our work we urge you to join our cause by adopting one of our birds or making a charitable contribution towards one of our projects!
Our area of greatest need… Satisfying the appetites of our 350 feathered friends! Our birds eat a diet mostly of fruits, vegetables and seeds. However, even in a "banana republic", the sheer quantity of food needed on a daily basis quickly adds up! You can help us with as little as a $1 a day or $350 to feed one of our birds for an entire year! Visit our Adopt a bird page to select a bird species of your choice and we'll regularly keep you updated on his/her adventures. You can even help us by purchasing smaller quantities of fruit at a time, luckily for us, fruit is very affordable here in Honduras!
Visit our support a project page for more detailed information on how to sponsor other important projects! One of our favorites is our nest-box project where we install small nesting-boxes in safe locations around Copan to encourage the breeding of our released Macaws!  You can also make a quick, general donation by following the simple steps below!
Donating is easy! U.S., Canadian, and U.K. citizens can even receive a tax-benefit by making a donation to our friends at the World Parrot Trust!
100% of all proceeds go directly towards Macaw Mountain's rescue, rehabilitate and release projects!