Support-a-project!
We stay busy at Macaw Mountain, constantly working on various projects focused on repopulating the Scarlet Macaw population here in Copan & Honduras. Our projects revolve around our Rescue, Rehabilitate and Release program. Learn more about our projects below and how you can help us give life to our dream of The Sacred Valley of the Scarlet Macaw!
Nesting Boxes Project
This is one of our most important projects that ensures our liberated Macaws continue producing offspring in the wild.  We build, 'furnish' and install nesting boxes in various locations  around Copan to provide a safe place that encourages our free flyers to mate during that special time of the year.  It is a joy for local 'Copanecos' and tourist alike to see more Macaws freely flying throughout the valley while it is a pleasure for us to welcome future generations of Macaws back into their natural & native environment.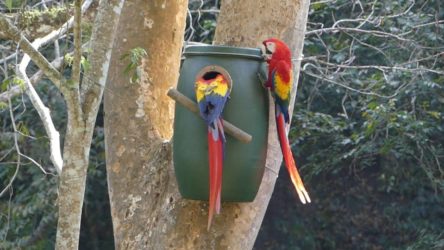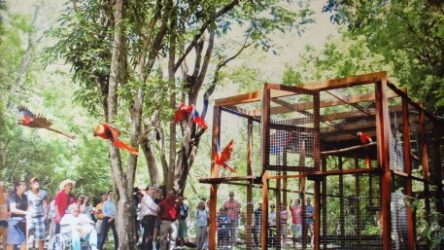 Release Projects
This is the cornerstone of all that we do, our dream come true so to say.  Our mission at Macaw Mountain is prepare as many of our birds as possible for a safe release back into their native environment.   In 2018 and beyond we are anticipating more bird releases than ever.  This comes following the enforcement of an updated Honduran law which makes it difficult and illegal for unlicensed individuals to keep endangered birds as pets. This, coupled with international partnerships will dramatically increase our influx of birds.  Our team and local partners are excited to responsibly begin our Sacred Valley of the Scarlet Macaw liberation initiative!
Education Projects
Our education program is arguably the most important aspect for the long term stability of our Macaw repopulation and release efforts.  Through this initiative, our team visits local and rural villages & schools to teach younger generations of Honduran youth the goal and importance of our mission.  These fun, interactive visits include engaging presentations that invite younger generations to become active participants of our mission within their communities.  Students graduate as ambassadors of Macaw Mountain and are encouraged to teach others about the Macaw and its historical and ecological importance while emphasizing that we all play a role in its survival and the repopulation of future generations.