History of Macaw Mountain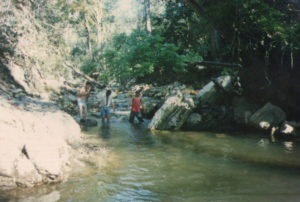 The story of Macaw Mountain Bird Park and Nature Reserve actually began on Roatan in the Bay Islands. There a North American lady, Mandy Wagner, began caring for unwanted parrots and macaws during the 1980's, accumulating a group of 30 plus birds by the mid 1990's. Many of these parrots were left behind or donated when foreign residents had enough of "paradise" and returned to their native country. Eventually Ms. Wagner herself returned to the U.S. and care of her birds passed to Lloyd Davidson who then accidently became "the Bird Man of Roatan". His takeover of the collection, about 35 birds total, happened to coincide with an increasing number of expats moving to Roatan, many of whom acquired an amazon parrot or macaw as a part of island life. This eventually created an "unwanted parrot" explosion and the collection rapidly grew to about 80 birds.
Maintaining this quantity of birds in good condition had become both time consuming and expensive so the first "bird park" was begun on rented property near the beach in Sandy Bay. This had been a dream of Ms. Wagner's but had now become a necessity to support the growing operation financially. The macaws can live up to 100 years in captivity so this was not a short term problem. The hope was that the growing tourism from cruise ships visiting the island would provide enough visitor revenue to support the park's feathered residents.
The Roatan Bird Park was in operation for 5 years and proved to be a testing ground for concepts later utilized here at Macaw Mountain. Much was learned about the bird's diets, their interactions and behavior, aviary size and construction, plants that would survive them, and even nesting requirements. Our first Scarlet Macaw babies were born and successfully raised and became strong flyers on Roatan.
Gradually the island park began to pay the bills but the "Bird Man" was ready for a change. A visit to Copan Ruinas in 1998, just before Hurricane Mitch, convinced him that this was a perfect environment for the birds long term and land was more affordable than in the Bay Islands. Within a year work had begun on Macaw Mountain under the direction of partner Capt. Pat Merritt in this very natural, stream-fed valley. Construction progressed steadily, but somewhat slowly, as efforts were made to minimally impact the natural beauty of the property. In July 2001 we chartered a plane and flew 90 birds from Roatan directly to "Tablones", a dirt landing strip just across the border in Guatemala. The birds had suddenly moved from the beach to the mountains and after a 5 month adjustment period we opened "Macaw Mountain Bird Park and Nature Reserve" to the public in December 2001.
Coffee
Since part of the property had been a coffee plantation, we kept several areas of producing coffee plants to show visitors the process of coffee production.